Since 2013, listeners of the internet podcast Issues, Etc. have gathered to hear live and in person featured guest of the show. Growing from a 200 person conference meeting at a congregation in the Metro East area of St. Louis, the Making the Case Conference now hosts more than 500 paricipants to the campus of Concordia University - Chicago.
Make your plans now to attend the 10th Annual Making the Case Conference on June 24-25, 2022.
Trip cost is $200 and covers conference registration, bus transportation, on-campus housing in a double occupancy room (add $25 for a single room), and three meals.
Deadline to register for bus trip is May 22.
For more information on the conference itself,
visit their website
.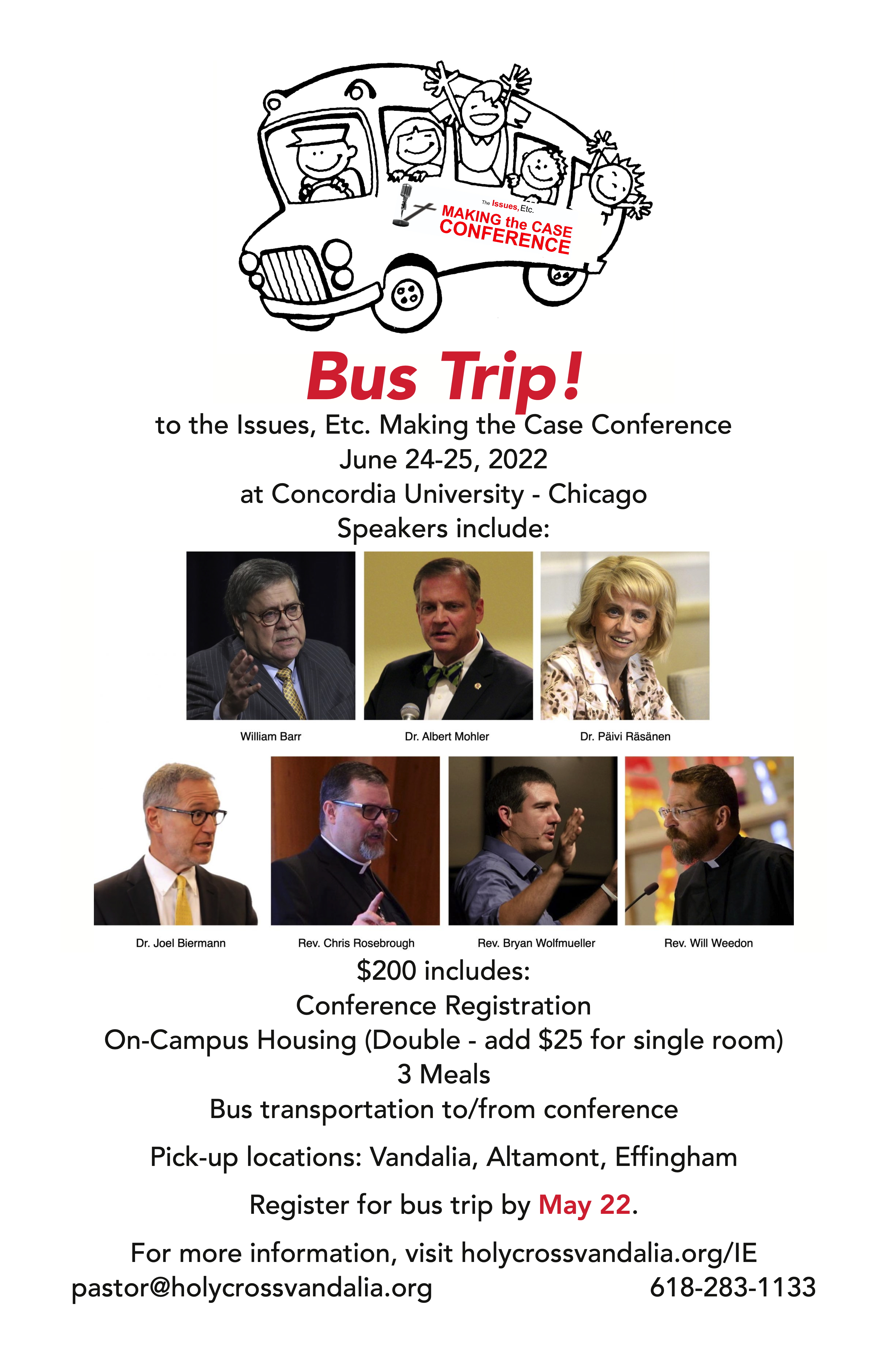 Help us get the word out by including a half page flier (either
horizontal or
vertical) in your bulletin or hanging a
poster on your bulletin board.
Itinerary
June 24, 2022
8:15 am - Depart from Holy Cross - Vandalia
8:45 am - Depart from Immanuel - Altamont
9:15 am - Depart from St. John - Effingham
11:00 pm - Pit Stop/Lunch on your own at Gilman
12:00 pm - Depart Pit Stop
2:00 pm - Arrive at Conference and Check-In
3:00 pm - Live Broadcast
5:00 pm - Dinner (included)
6:30 pm - Conference Presentations
9:00 pm - Compline: Prayer at Close of the Day
June 25, 2022
Breakfast on your own. Options within walking distance will be provided.
8:30 am - Matins
9:00 am - Conference Presentation
12:30 pm - Lunch (included)
2:00 pm - Hymn Sing
3:00 pm - Conference Presentations
4:30 pm - Dinner (Included)
6:00 pm - Depart CUC
8:00 pm - Pit Stop at Gilman
8:15 pm - Depart Pit Stop
10:00 pm - Drop Off at St. John - Effingham
10:30 pm - Drop Off at Immanuel - Altamont
11:00 pm - Drop Off at Holy Cross - Vandalia